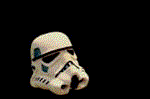 Surprise Birthday Party
Saint Charles
April 10th 2010
MISSION REPORT

Event: Surprise 30th Birthday Party at McNally's Irish Pub – St. Charles, IL

Event Date: April 10, 2010

Event Coordinator: Cheryl "Whinter" Whitaker (TI/TB-3127)




When this event request came through the website, I knew that I wanted to head this one up. I laughed so hard at the request that Birthday Boy's wife (Rebecca) sent us. She mentioned that they had seen us at a parade in their hometown and her comment was, "When Doug (the birthday boy) saw the Midwest Garrison come walking down the street at the end of our Pumpkin Parade he almost peed his pants, hyperventilated and passed out simultaneously!" This was going to be fun!

The event started with a little confusion, as half of us ended up parking in the wrong parking garage. But after that was figured out and we all got together at the correct garage, the rest of the evening went perfectly.

Rebecca met us all on the 3rd floor of the garage, which had a walkway that let straight to the room they had rented out for the party at McNally's. She talked to us for just a moment to get the scoop and to let us know what Doug looked like, and then went back into the room so we could make our entrance. As we walked closer to the door of the room, we could hear that they were playing our song… The Imperial March. The room went wild when we walked in, and Doug was astonished! It was priceless.




Rebecca made a wonderful speech, thanking her guests for coming, as well as expressing her thanks to the MWG for their part in the great surprise for her husband. She also explained that the 501st does not accept payment for appearances, but that we do encourage charitable donations. She stated that they wanted to make their donation to the Make-A-Wish Foundation, and then put a very large, glass container on the bar for people to put contributions into if they wanted to do so. By the end of the evening we had an incredible $245.00 collected for Make-A-Wish!




We took several pictures with everyone and talked in length about the Legion and costuming to many guests, including Doug, whom I have a feeling will be a future MWG member.

Thanks so much to the following troopers for coming out to this and making Doug's party so great!

Kyle Dorothy (TI-4982) – TIE Pilot
James Noland (IG-7696) – Imperial Gunner
Neil Auer (TK-3446) – Stormtrooper
John Fitzsimmons (TK-6442) – Tusken Raider
Matt McDonald (TK-8148) - Stormtrooper
Tom Schaefer (TK-118) - Stormtrooper
Joe Rivera (CC-3166) – Captain Rex
Cheryl Whitaker (TB-3127) – Biker Scout