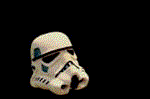 Dave Dorman Photo Shoot
Dave Dorman, respected Star Wars artist, is doing a limited edition print for Celebration 4 and needed some reference photos so he could get the look just right.
He asked for help from The Midwest Garrison and we were happy to assist him.
On Feb 2nd Myself, Chris Spice and Jim N. Headed out to Dave's home to do the shots.