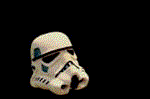 PJ's Collectables
Green Bay WI
2007
WHEWWWWWWWWWWW

well it was a Long drive there and back, On the way back had the added joy of being witness to a drunk driver near Oshkosh and had to spent time making a written statement for the WI state parole.. HOW FUN...

Left my home at 5am, got there at about 9am, Met Dana at PJs and suited up as trooper.

Dana was don't up as Padme. WOW the detail work on the costume was FANTASTIC! Kathy, You have a rival! Her work is great!

After Robb, Dee, the two droids and Jeff showed up, people were asking about Vader and we said he was on another mission but that R2 and C-3PO will be there soon. LOL well you should have seen the eyes of the kids! Soon after, I got into 3PO, droids cane out and never heard another word about vader.

I felt bad for Dana, as I have no idea how many times she was called Leia. We kept reminding people that she Was Padme, Liea's mom. LOL I at one point said to one person "That is Padme, Leia's mom.. Looks good for her age doesn't she?" LOL people laughed and Dana gave me a half smile half GERRR look. LOL it was all in fun, no insult meant. And Luckily she knew that


WOW, I forget when we show up in places like this, not in major cities, that our appearance is a BIG thing. We had HUNDREDS of pictures taken of up! It was FANTASTIC!, So many kids, and I have to say ALL well behaved! Younglings and adults alike all thrilled to see us.
The PJs people were soooo happy with us as well.
The Bake sale that was also part of this event went better than they planned and most stuff was gone before half the day was done


I don't know how much was make for Make a Wish, But if attendance and bake sale was any indication.. IT WENT GREAT!

I had a BLAST and it was nice to meet those I hadn't met before, and great to see those I have, ESPECIALLY ROBB! Dude been far too long.

About 4pm we suited down, yapped a bit and headed home, Well everyone did except Me and my son, and Darryl and his daughter. We went out to eat
and yapped a lot more. LOL

Anyway, after eating we headed home, Austin was asleep before we hit the freeway. I called Darryl to stay awake, And was just getting to the IL border when He pulled in his drive LOL I got home about midnight. A long 20 hour day, but WELL worth it!
Wish more people could have made it, You would have enjoyed it.
Austin, the lone Tie
R2 take baby for a walk
Smile
More Smiles
TK321 helps a driver
Robb Directs traffic
LOOK OUT!
SO, How do you do that dance again?
We are popular
NO PHOTOS!
The gals
S5 and some guy in grey
I know handing this kid my gun was a bad idea
CHEESE!
It is WI after all
Troy multitasking
Hello your highness
I feel pretty
How do you want this signed?
MERRY CHRISTMAS!
Austin and S5
Christmas Droids
Kids love droids
My two short buddies
MERRY CHRISTMAS!
PART 2
MERRY CHRISTMAS!
From MWG
Merry x-mas
I love this pic, too bad its out of focus :(
And a R2 in a pear tree... OK so its not pear, SOOT ME!
Only in WI would you have a R2 in xmas tree and a John Dear mug in same pic
Austin takes controles of S5 .. Why do I have a feeling I will be BUGGED by him to build one now?
Jeff acting like a reindeer !
Austin with R2
Be vewy vwey quiet, Padmes hunding trooper!
Merry X-MAS
From the midwest droids
Hello sir
The good guys
What did you say?
Oh dear
Smile for the camera
CHEESE
Awwwww
I cant even hold
my own drink
Greetings young sirs
Wax on, wax off
Droids welcome guests
WHAT?
Happy Veterans day!
Padme channels the spirits
THERE'S ONE !
I cant listen to both of you at once
Padme with child
SHOOT! He just snook up on us
Stewie Vader
NO PHOTOS !
This isn't my day!
So I said to Padme ...
Nice pic
Austin make S5 boggie
CLASSIC TOM
WHERE YOU GOING S5 !?
Don't you go no where S5
Royalty
HOLD IT RIGHT THERE
Hes bigger than me!
Kids love the droids
So your telling me we look the same?
Your in charge?
I THINK NOT
Yea, that's what I thought
NA NA NA BOO BOO
Hands up trooper
Being a former queen is a pain
OFF WITH HIS HEAD!
I TOLD YOU, NO PHOTOS!
Hummm whatever I do, that guy does!
MWG bobbles
MWG Xmas Bobbles