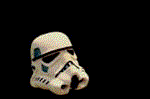 Star Wars Concert
&
VIP Brunch
Dec 6th
United Center - Chicago
Here are a bunch of pics from myself and other MWG members.. Enjoy :)
On Dec 6th 2009 Members of the MWG participated in Star Wars In Concert at the United Center in Chicago. In addition to trooping and taking pics with fans that always makes them and us smile, a few of us were lucky enough to be part of a special VIP brunch. In attendance was not only Anthony Daniels (C-3PO) but MY GEORGE LUCAS HIMSELF!

George was nice enough to give us a few moments and took a couple group pics with us after the Brunch then stayed and was actually in the audience for most of the first concert (the 1pm show). He left the audience shortly before the intermission and then he and his family left the United Center shortly before the end of the concert. He walked down the aisle right through the audience accompanied by a couple United Center security guards.
We found out later from the people who work the concert tour that this was the first time George has seen the concert live.
VIP Brunch

YES THATS GEORGE LUCAS!
Trooping
Show
Props